Growing your eCommerce business with micro-influencers might seem like quite a challenge. Where do you even begin? You will need to find relevant influencers, reach out to them and vet them, and that's just the beginning. You will also need them to create stellar content their (and your) followers will love.
So, how can you implement a micro-influencer marketing strategy in a way that will be most effective for your brand?
This post examines various ways you can use micro-influencers to grow your eCommerce business.
But first, why micro-influencers and not, you know, the bigger kind with larger followings?
Why Go with a Micro-influencer Marketing Strategy?
Micro-influencers can engage your target audience on a peer-to-peer level. This means that their audiences relate to them on a much more personal level and are thus more engaged and open to listening to the products they recommend. People trust the opinions and recommendations of those they feel they relate to.
And the best part?
Micro-influencers are seen as more authentic, have higher levels of engagement amongst their followers and won't cost your business as much as a celebrity or macro-influencer would.
This knowledge seems to be catching on in the marketing world. Eighty-three percent of marketers say they prefer influencers who have less than 100,000 followers, and 53 percent say they lean towards those with 10k-100k followers.
Now that we know that getting micro-influencers to talk about your brand is a highly effective strategy for engaging target audiences, what are some specific ways you can get micro influencers talking about your brand?
Let's find out…
5 Effective Ways to Scale Your eCommerce Business with Micro-influencers
Before we talk about the specific things your marketing team can do to boost the growth of your eCommerce business with micro-influencers, let's talk about the step that must come first: finding them!
Today, bot accounts and "fake" influencersare still a problem. Some brands find it challenging to identify influencers who have the right target audience, engagement levels, content and reach.
Leveraging influencer agencies can help you access a list of vetted influencers actively looking for brands to work with. They can also give you detailed reports on their performance.
Another thing you can do is use a user-generated content tool to search for the people who are already out there talking about your brand and convert them into loyal advocates. This is made even easier with creator community-building tools like Stackla's Organic Influencers capability, allowing you to quickly discover and engage with micro-influencers who are already tapped into your brand and audiences.
Once you have gathered a community of creators for your brand, you can try running these campaigns:
1. Use Campaign-Specific Hashtags
Campaign-specific hashtags are one of the best ways to spread brand awareness and drive sales.
They allow niche micro-influencers to connect easily with your brand.
For example, check out how sparkling water brand Lacroix does it: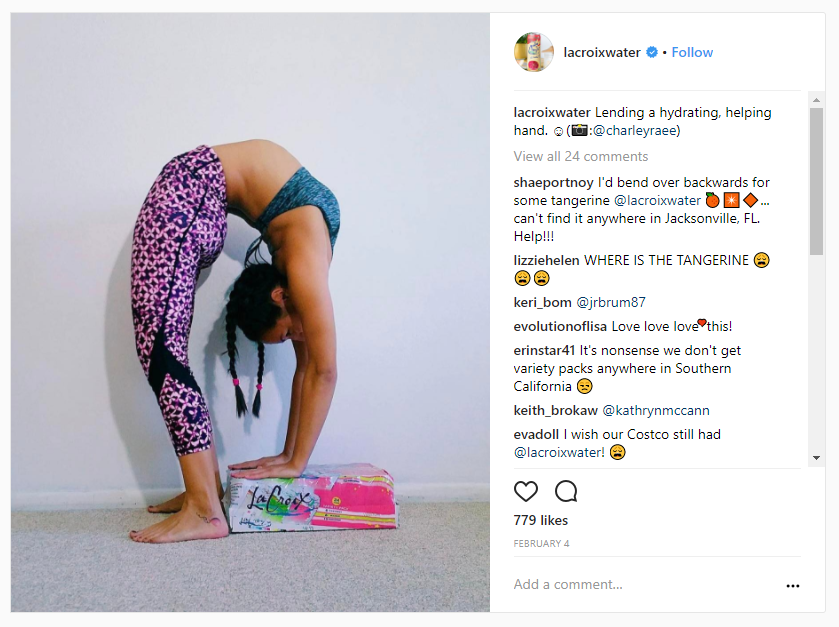 They work with tons of micro-influencers to promote their products and gain more customers.
You'll see that the influencer in this photo has barely over 1,000 followers:

But that specific micro-influencer gets tons of interactions, which makes the partnership worth it.
And on top of that, Lacroix runs dedicated hashtag-based influencer campaigns: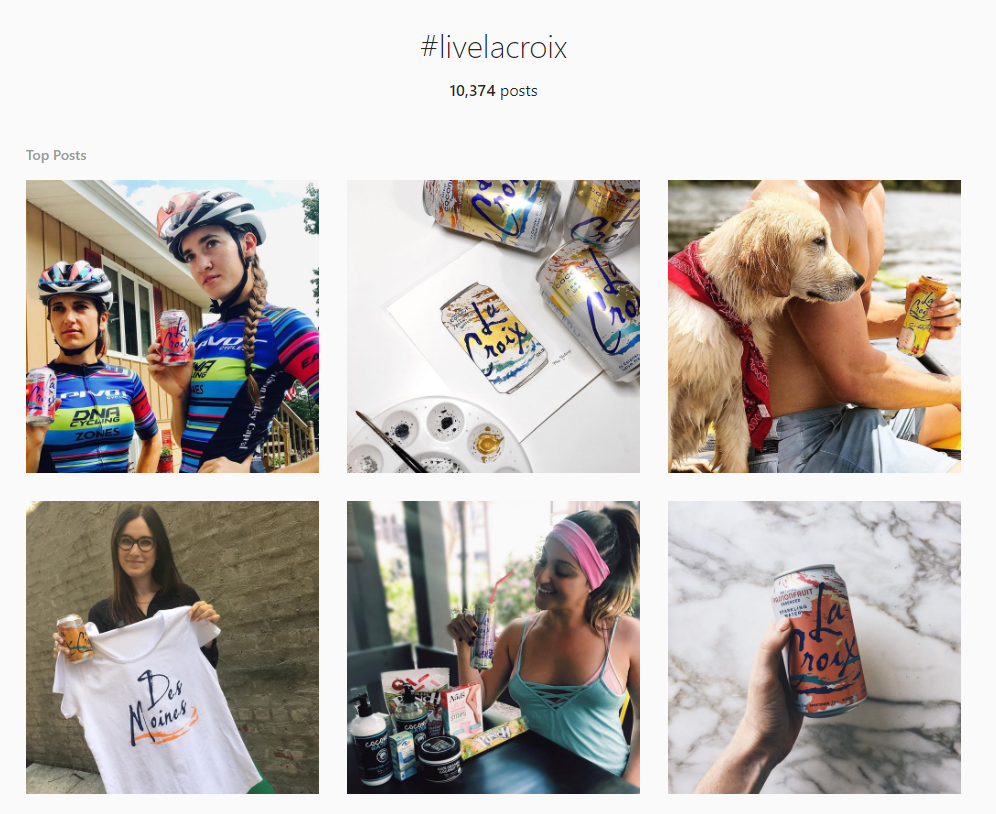 They send out free products for promotions to these influencers and get tons of traction on Instagram.
If you click on any of these influencer posts, they almost all have fewer than 10,000 followers: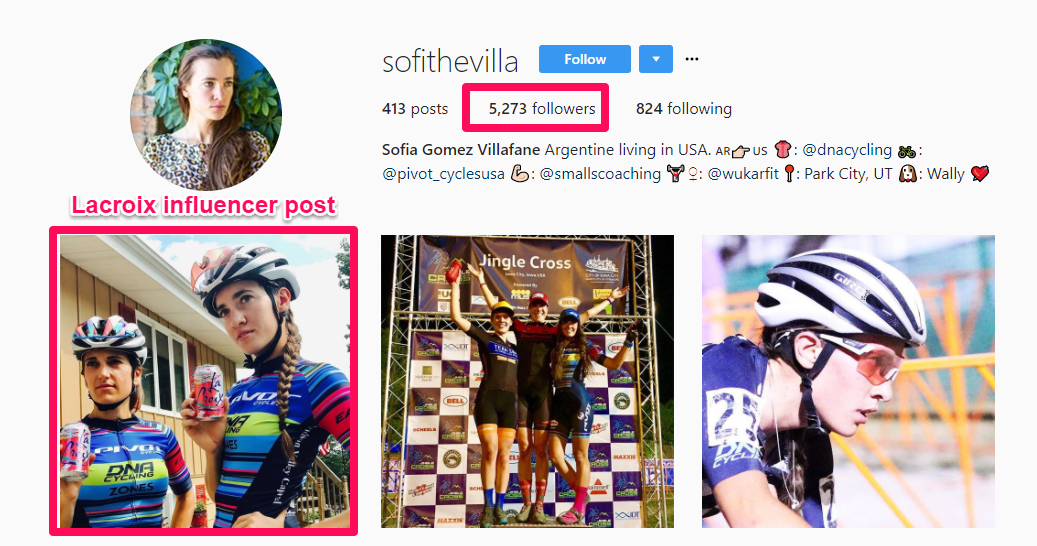 Why do they work?
It's because they're genuine and authentic.
These people truly live the Lacroix lifestyle and embody the brand image.
They are down-to-earth, real people.
Accounts with over 1 million followers may seem like a cool way to promote your brand. But at the end of the day, their engagement rates are lower than that of micro-influencers.
On top of that, they likely are major celebrities who don't embody your brand.
Follow in Lacroix's footsteps by creating your own hashtag-based campaign.
You can start a hashtag with your company name in it to drive tons of branded traffic and explode your customer growth.
2. Leverage User-Generated Content
One of the best user-generated content campaigns I have ever seen used a batch of micro-influencers.
In January of 2015, the Hawaiian Tourism board took micro-influencer campaigns to a new level:
They leveraged the power of micro-influencers in a way that revolutionized Instagram marketing.
Here's what Vince Soliven, the executive creative director of the campaign, said about it:
When you have a social media star who is 'a regular person,' it bridges the gap for the consumer. If this person is having this experience, it's not fabricated, it's not the result of some crazy $5,000 photo shoot. They got that with a GoPro. Maybe I could have that experience, too.
Hawaii's "Let Hawaii Happen" campaign generated 100,000 posts in a single year.
On top of that, the campaign reached 54% of all U.S. travelers!
The cherry on top: 65 percent of people who saw the campaign said that they planned to visit Hawaii in the next year or two.
They did this by leveraging local Hawaiian micro-influencers like Lindsey Higa: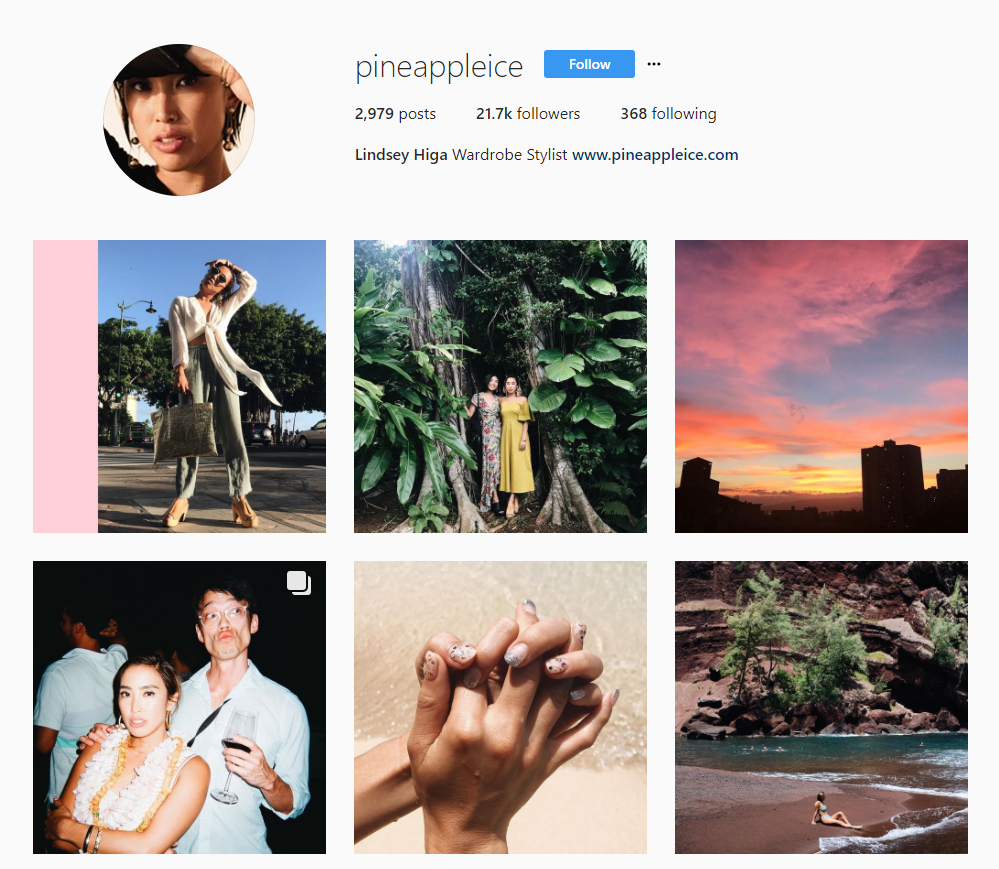 They focused on influencers who connected to their ideal vision and brand image.
Despite being a boring tourism board, they were able to generate incredible traction and drive high amounts of interest in travel.
One of the key reasons that they found such success was because of user-generated content.
They didn't merely post pictures on their account.
They allowed influencers to post pictures for them, suggesting authenticity and boosting their credibility.
In fact, 93 percent of consumers find UGC to be an influence when making a buying decision!
On top of that, UGC can increase your campaign conversions by 29% on average.
Thankfully, it's not hard to start leveraging UGC in your campaigns.
Buffer does it all the time: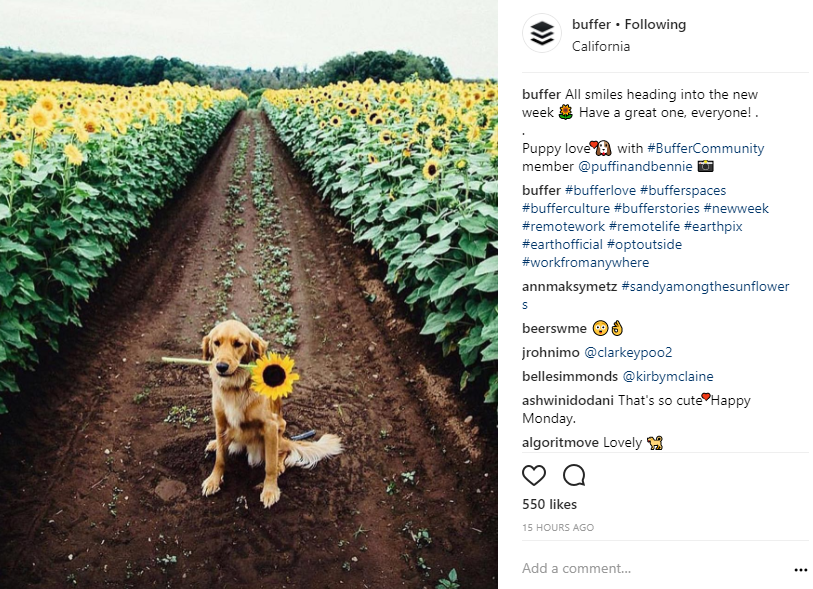 User-generated content may be the "ace in the hole" for your next micro-influencer campaign.
Focus on creating great connections with your influencers and using them to position your brand with a trustworthy image.
3. Create Sponsored Posts
Sponsored posts are similar to UGC in that you focus on getting the influencers to post the content on their own accounts.
These posts drive up engagement and create a more authentic brand vision.
They also allow your influencers to make detailed videos or content pieces surrounding your product.
This publicity reinforces your brand to the audience and gives you valuable traffic and interest.
You can see this all the time on Instagram: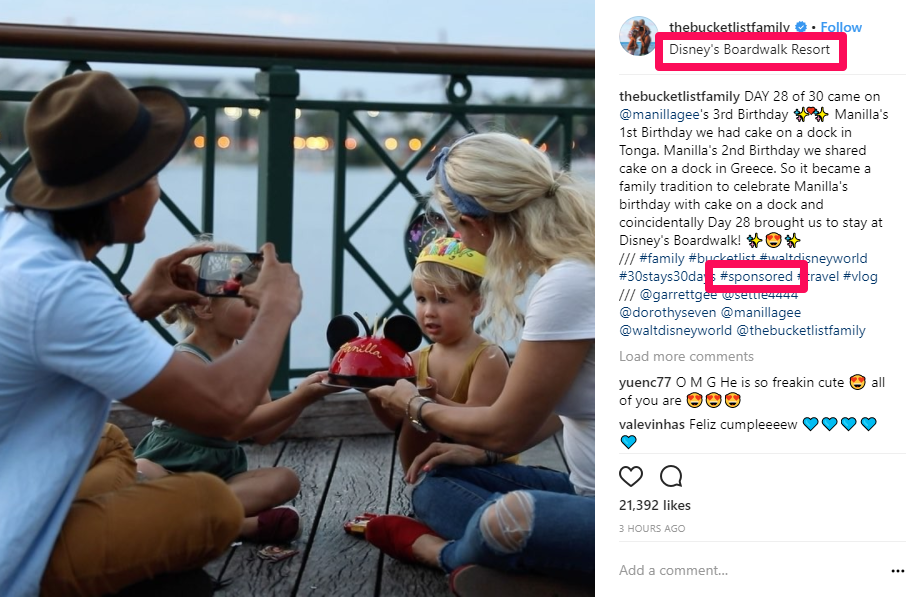 They are on YouTube, too: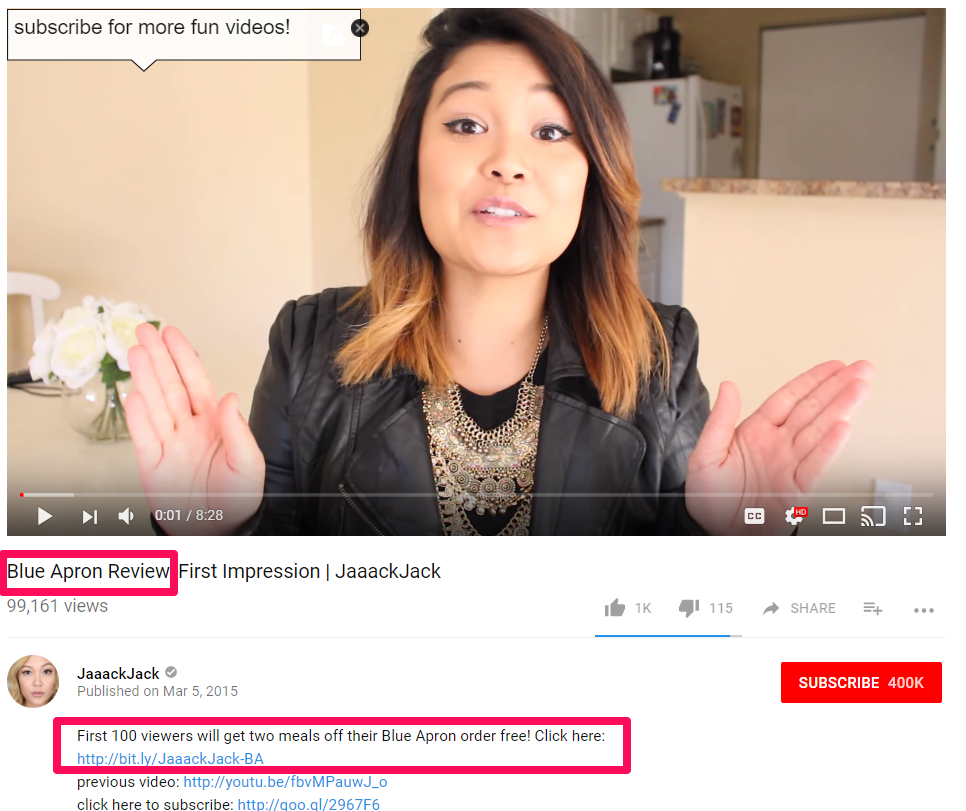 Sponsored posts are one of the most common ways to leverage a group of influencers, and it works great for micro-influencer campaigns as well.
One of the best ways to do this is by reaching out to your desired influencer and offering to send them free products in exchange for honest reviews.
If you already have influencers that you work with, it's even easier. Depending on your campaign contracts, you can simply ask them to post sponsored content!
It's no secret that influencers hold significant power to drive conversions.
People trust them, and they will trust what they recommend.
Use this to your advantage by having your influencers create sponsored posts for your brand.
4. Tell a Story With Your Promotion
Storytelling increases conversions. There's no doubt about it.
A few years ago, when I was starting to ramp up my blog, I was struggling to get visitors.
My blog posts were great. I was posting consistently, but the blog wasn't compelling users to stay.
So I started to personalize it by telling stories with my content that people could relate to.
Here's what happened:

In just a few months, my traffic started to skyrocket.
I found the growth I never knew I had access to!
The same goes for micro-influencer marketing.
Storytelling drives conversions naturally because people begin to care about you and your brand.
For example, check out how American Express uses influencers to tell stories: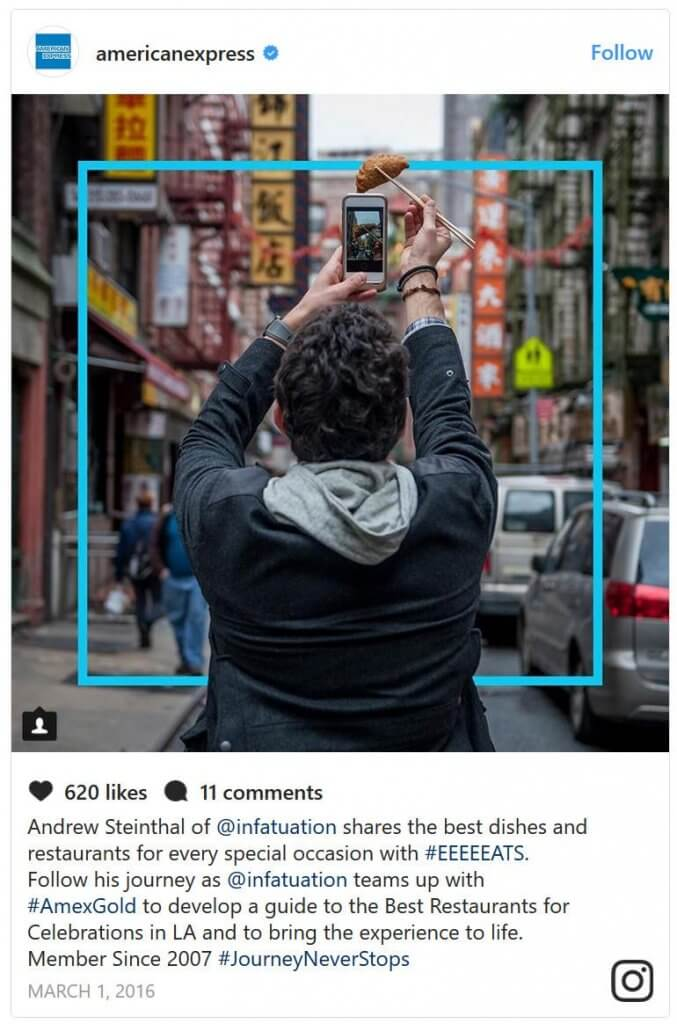 They connect a boring consumer product to the desires of nearly every human: travel, exploration, and fun.
The influencer doesn't merely post a sponsored post saying "AMEX is the best!" Instead, they use a story to craft why AMEX fits the influencer's life.
It helps people bridge the gap between a boring product and developing the need for that product in their daily lives!
Ultimately, they are much more likely to understand why they need it.
To start using storytelling, inspect your preferred influencer platform. Look for specific micro-influencers who already have a story.
For example, do they love to travel?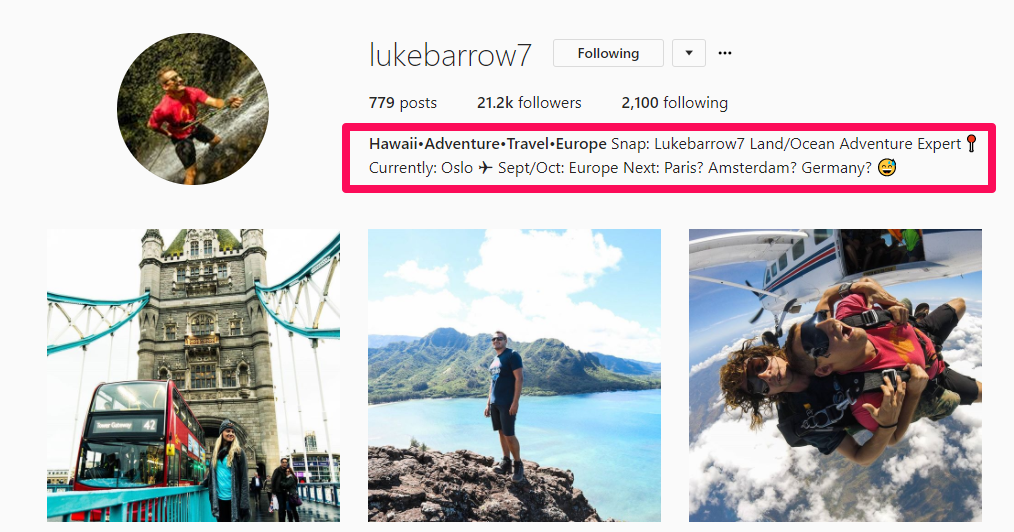 Are they a popular niche micro-influencer?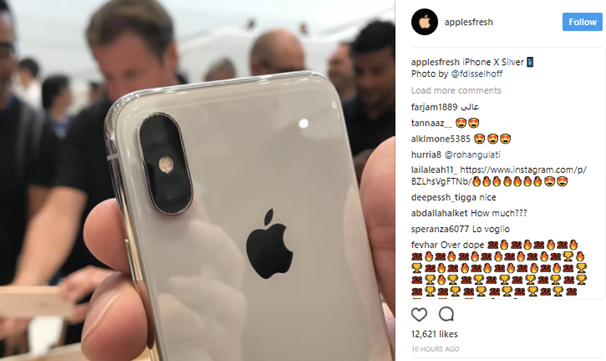 The goal here is to find influencers who fit your brand story.
For example, let's say your brand donates part of the sales it makes to charity. In that case, find someone who travels the world volunteering and helping third-world communities.
If your brand gives computers to underprivileged kids, find an influencer who works with similar groups.
Telling a detailed story with your marketing is one of the best ways to drive sales and gain more customers.
I've personally used it on my blog to gain more clients and scale growth.
I even use it on social media when I share personal posts:
It helps connect people to your brand in ways that sponsored posts and UGC simply can't.
It's another level of influencer marketing that gives people inspiration, purpose, and a reason to love (and talk about) your product.
Be sure to incorporate storytelling into any micro-influencer campaign you run.
Micro-Influencer Marketing and Small Business Growth
As a matter of fact, 30% of consumers are more likely to buy a product recommended by a non-celebrity blogger. This happens because people just want to see a simple and honest review from a person they can really trust. That is why our post is about to show you the role of micro-influencer marketing in growing your small business.
Micro-Influencer Marketing Explained
By definition, influencer marketing is a form of marketing that focuses on targeting key industry leaders to drive brand message and awareness to a specific market of consumers. While this is a good way to begin describing micro-influencers, we must also explain a few more features that make this digital marketing strategy so special.
The "micro" part is crucial here since these influencers don't try and don't want to reach global audiences. On the contrary, they build a small army of loyal followers and strengthen the reputation by posting quality content. In return, followers really appreciate and respect influencers' recommendations and show the willingness to act according to their suggestions.
There is no strict rule to prescribe the exact number of followers, but most marketers consider micro-influencers as individuals with up to 10 thousand followers. Right now, the average entrepreneur is probably wondering: how come 10 thousand is better than 10 million followers?
To cut the long story short, we will say that user engagement is what separates micro from macro-influencers. As an influencer's follower total rises, the rate of engagement (likes and comments) decreases proportionally. According to this study, social media accounts with around 1,000 followers see by far the highest engagement rate.
Besides that, a couple of other details divide the worlds of micro and macro-influencing:
Style of work: Micro-influencers develop a unique style, while macro-influencers have to be more generic to indulge the crowd of followers.
Authenticity: While small-range influencers seem highly credible and authentic, their macro peers are struggling to prove authenticity as the follower count keeps booming.
While it is true that macro-influencers can raise brand awareness more effectively, they cannot get anywhere near the engagement rate of the average micro-influencer. This happens because most of their fans feel like they don't stand a chance of earning the author's attention. The number of people who want to comment or ask something is way too high to give them a real chance to stand out from the crowd of followers.
On the other hand, micro-influencers are not targeting the same audience. For them, content creation is not the game of numbers but rather a matter of quality and human touch. That's exactly why small businesses turn to micro-influencers when promoting their products – it allows them to address a highly specific niche audience.
For instance, cosmetics brand Glossier hired Cecilia Gorgon, a student at the University of Michigan, to promote their products. At the time of the campaign, Cecilia had around nine thousand Instagram followers who loved her "girl next door" style and appearance. Glossier realized the potential of Cecilia's online presence and used it to expand reach within a very specific local students group.
The Benefits of Micro-Influencer Marketing for Small Businesses
We already mentioned a lot of features that make micro-influencing such a powerful marketing strategy, but there is much more to it than that. Here is what small businesses can expect if they decide to hire a micro-influencer:
Cost-effectiveness: Micro-influencer marketing is much cheaper that macro-influencing. While most celebrities would charge you thousands of dollars for a single announcement, 84% of micro-influencers charge $250 or lessfor an Instagram post.
Scaling: Hiring a micro-influencer, you won't rush into things and bite off more than you can chew. Small businesses need to be careful with the scaling process, making sure to start modestly and then expand the reach gradually.
Content quality: Micro-influencers don't mess around with content quality because they know that's what keeps them alive and kicking online. This also means they will never mention your products without testing. Emilie Smith, a marketer at Superior Papers, explains how the system works: "Our agency is investing some serious efforts in content creation because we know this is the only way to grab the attention of our audience and inspire them to engage with our posts."
Easy cooperation: Most micro-influencers are friendly and easy to cooperate with. You just need to be polite and propose a partnership directly – and that's pretty much all you need to do. The rest is up to the micro-influencers and their creativity.
Professional authority: Micro-influencers can't reach millions, but they don't have to. Their professional authority allows them to strongly influence the opinion of smaller fan groups, so you should take advantage of this influence to promote your business online.
Follower loyalty: We said it before, but we will say it again – you can never overestimate the importance of follower loyalty in micro-influencer marketing. The two parties build a strong relationship based on trust and understanding, which sets the cornerstone for the successful brand promotion.
How to Find the Right Micro-Influencer for Your Campaign
The world of micro-influencer marketing is very colorful and versatile, which gives you a plenty of options to choose from. However, you need to be careful enough to find the right person who can promote your products or services successfully.
First of all, you have to determine whether your company and the targeted influencer share the same values. If you are trying to establish a brand as serious and reliable, don't choose a comedian who is completely informal and casual.
That's how we get to the issue of style. A perfect micro-influencer should resemble your average buyer persona, matching the age group, academic background, income level, and the overall appearance.
At the same time, it's important to find a person who uses the right marketing channels. For instance, LinkedIn is probably the best influencer marketing platform for B2B companies, while Instagram is more appropriate for B2Corganizations that want to promote and sell products.
If you are running a local business, one of the best options is to look around and find a popular individual who can impact his or her peers. For example, find a talented football player if you sell sports gear or a hairdresser if you deal with cosmetics.
Another option is to use online tools to find the right micro-influencer. Apps such as Buzzsumo or Discover.ly are easy to use but very efficient, so we suggest you combine it with the local search in your neighborhood to find the best micro-influencer for your project.
Conclusion
Influencer marketing is not a new concept, but the difference between its micro and macro versions is still making a lot of entrepreneurs confused. In this post, we explained the role of micro-influencer marketing in growing your small business. Remember our tips and don't be afraid of hiring a micro-influencer as it could quickly give you that much-needed sales boost.