You want your customers to be so delighted after making a purchase that they return to you again and again. Even more importantly, delighted customers often tell their friends and family about their favorite businesses. So how can you go about using your online marketing strategies to please your customers?
What is customer delight?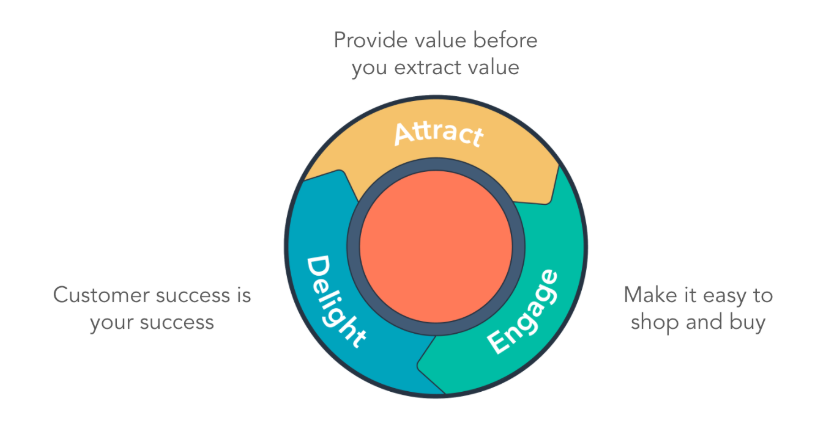 Customer delight is defined as going above or beyond meeting customer expectations and providing a positive experience with your brand, products, or services. Delighting your customers is all about establishing an emotional bond between brand and buyer.
Customer delight index is a metric to find out how satisfied the client is with the product or service you have provided. It can be measured with customer satisfaction metrics such as NPS or CSAT.
What's the difference between customer delight and customer satisfaction?
It is important to note that customer satisfaction and customer delight are not the same.
Karen Donaldson, a celebrity communication and body language expert, said being satisfied is equal to receiving decent customer service.
"When customers purchase, they expect decent customer service," Donaldson said. "Customer delight means to exceed expectations and make a lasting impression."
If you keep your customers satisfied, it's still easy for them to leave. It's not so easy for them to find somewhere else to spend their money if they are delighted. Loyalty doesn't come from giving customers the status quo, but from going above and beyond to surpass their experience.
"The reality is that customers and clients who feel good and feel that they are appreciated will return, invest more, and refer other customers," Donaldson said.

Levels of Customer Satisfaction
Here, in this illustration, you will find that Customer Satisfaction is nothing but the net satisfaction that you received after subtracting expected service from the perceived service. Now, this leads us to three levels of customer satisfaction:
Much better than expected:This is where the perceived service represented in the blue bar is higher than the expected service, represented in the purple bar. As and when this happens, the customer is totally satisfied with your product and would be totally loyal to your brand.
As Expected: This is where the perceived and the expected service equate, resulting in a normal satisfaction level. Here, a customer may or may not churn away.
Worse/Different than Expected: This is where the expected service is way higher than the perceived service. This is something that a customer does not like, or appreciate. They will simply churn away and add negative reviews about your brand.
Why does customer delight matter?
Before the COVID-19 pandemic, customer delight was a nice add-on. Now, it's practically a necessity. During the pandemic, small businesses had two choices: pivot to a new business model or stay the course and hold on to the customers they already had. Those who took the latter route had no choice but to delight customers.
"Customer delight has become the way through this global meltdown, where so many of us have seen our revenue plummet," Majcher said.
From eliciting warm feelings to building loyalty, here are four benefits to creating customer delight.
1. They know you care.
Customers tend to be loyal to the businesses that appreciate them. If you go above and beyond to show you appreciate their business, they'll be more loyal to your brand in good and bad times. This requires listening to your customers and responding to their complaints and desires. By paying attention to them, you'll find opportunities to delight them and enhance your relationships.
2. They become your promoters.
Word-of-mouth marketing is the cheapest and arguably most effective way to promote your business, and delighting your customers is a natural way to achieve it. Delighted customers tend to share their excitement with friends, family and others in their network. They might share an update or post a tweet praising the brand. That referral is more powerful than an ad campaign.
3. It increases customer spending.
Customers tend to spend more with the companies that make them happy. The more you delight them, the more they are apt to spend.
4. It protects your reputation.
Your business is only as good as its reputation. A bad review on Yelp or several complaints on social media can have a negative impact on your sales. If you give your customers delight, it will cushion the blow from any bad reviews. You have brand ambassadors who believe in your company and will likely defend you against negative comments.
How to delight your customers.
let us discuss some of the best strategies to help you in retaining your existing customers, delighting them, and making them your brand ambassadors.
1. Provide real time support
Have you ever thought about how your customers feel about wait time in a phone queue?
Does it really have any worth when you say to them "your call is important to us"?
A survey by American Express found that the maximum amount of time customers are willing to wait is 13 minutes.
Businesses can align your customer's expectations with reality by deploying new technology to provide real time support to your customers. Great customer experience can be achieved by using live chat software and live engagement tools that boost customer satisfaction rates.
Live chat
Live chat is the most preferred channel over other communication channels such as phone and email. The real time support it delivers to customers makes it popular. "79% of customers say they prefer to live chat because of the immediacy it offers compared to other channels."
Live chat instantly connects with your customers and assists them in real time.
You can trigger proactive chat messages to guide customers in their buying journey and improve their experience.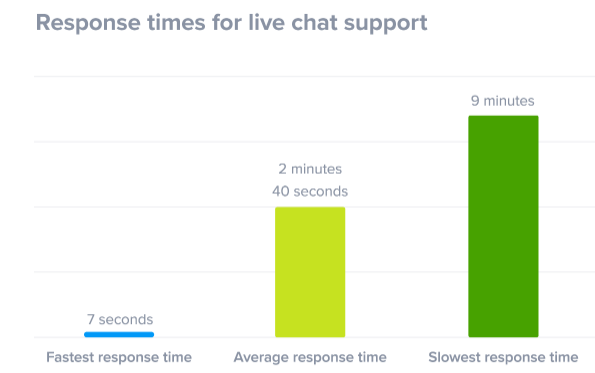 Source: Superoffice
Engagement tools
You can engage your customers in real time by using live customer engagement such as co-browsing, video & voice chat. These tools allow customers to communicate within minimal wait time and delight your customers.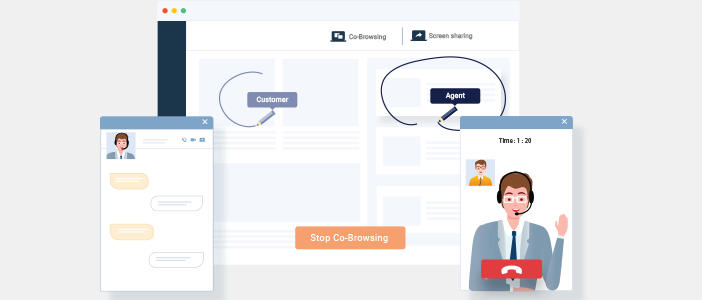 Here is how to delight customers by using visual engagement tools?
Video chat allows us to identify the issue faster and deliver effective solutions, which reduces the number of touchpoints and increases customer satisfaction.
Co-browsing solution allows you to collaborate with customers and guide them to complete a complex form fillup or application process.
Having direct personalized conversations develops trust in customers and delivers a delightful customer support experience.
2. Deliver consistent omni-channel customer service
Customers expect excellent consistent experiences across multiple channels as they use them to reach out to you or make a single purchase. And when the experience is not consistent they get frustrated and prefer switching to another brand.98% of Americans switch between devices on the same day.
Businesses should go omnichannel to make sure that your service is consistent across all the channels such as website, social media, phone, in-app, stores, etc. It means the customer satisfied with your social support over Facebook messenger should be equally convinced with your quality of website support.
How to delight customers by adopting an omni channel strategy?
Streamline all the customer conversations under one platform and provide a cohesive experience.
Identify the most preferred channels and be 24×7 active across those channels to reduce average response time.
Make use of tools like live chat, chatbots, visual tools to gain faster details of the issue and deliver first contact resolution.
Customer delight example – Bank of America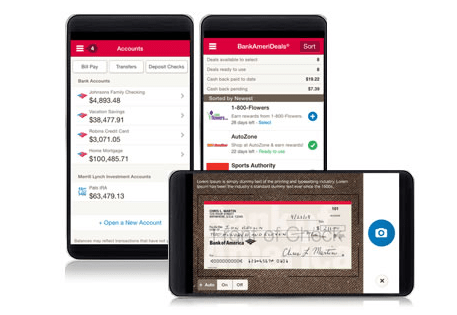 Bank of America is one of the biggest known brands following consistent omni-channel service to its customers. The bank allows for everything from depositing checks to scheduling an appointment to be handled by the company's mobile and desktop apps.
3. Empower your team to delight your customers
Why empowering the customer service team is a pillar of delightful customer experience?
Empowering support teams means you give them the authority to take independent decisions to impress your customers. It also requires your employees to be well trained to identify and act on opportunities to deliver excellent service and make customers happy.
How does an empowering support team act as a customer delight program?
Freedom of decision making – The employees hold the complete authority to handle customer's queries independently. It is their responsibility to amaze them by meeting and exceeding customer expectations.
Perform as a team – Empowering your team allows them to perform together to take a move to deliver superior customer service that surpasses the customer delight index.
Employees feedback – The feedback from employees are directly aligned with the company's objective. The mission of the company and the opinion of your team are linked that makes them valued.
Giving employees ownership for their own work will result in improvements in motivation, customer service, and morale, but also to improvements in quality, productivity, and quick decision-making.
The best example of empowerment of the customer service team – Ritz Carlton Hotels
The Ritz-Carlton Group believes in 'the key to making customer service visionary is team engagement.'
Ritz-Carlton focused on customer service and gave its employees the authority to spend up to $2,000 per day to delight their guests with their service. You can structure and incentivize your team so that your employees can work independently to resolve customer queries keeping themselves on their feet.
Empower your customer service reps by measuring the feedback collected and total resolved queries that were assigned to deliver great customer service success.
4. Analyze customer feedback
"A satisfied customer is the best business strategy of all."
Customer feedback is crucial for the growth of all businesses. It provides valuable insights into what is working well about your products or services and what should be done to make the experience better.
You as a business need to ask for customer feedback at the right time to acquire actionable feedback. You can acquire feedback just after the end of the live chat conversation, after a successful checkout, or after the resolution of a support ticket.
How analyzing customer feedback is a vital part of customer delight programs?
Analyzing feedback involvesidentifying customer needs and frustrations of customers so that businesses can improve customer satisfaction and reduce churn. Feedback analysis needs to be done wisely by following the below steps.
Categorize all feedback into categories – The feedback may include product delivery speed, after-sales services, customer service approach, etc. Once categorized you can divide further that deserves immediate attention.
Identify the nature of the feedback – Customer feedback comes with negative and positive comments. The positive ones bring in concrete ideas on what can be extremely effective in building customer loyalty. On the other hand, the negative ones provide insights on improvement areas.
Consolidate results and plan your next move – Finally, amalgamate all the results to make a plan of action as to how you intend to respond to each of the issues raised. Make a feasible and effective plan that would address all the problems your clients think your business is having while keeping the good services still functioning.
Note: You need to train your customer support team to ask feedback at the right time via the right channels and by tailoring feedback questionnaires.
5. Personalize your communication
The power of personalization is no secret to marketers today.
A personalized customer communication strategy is sure to meet the customer delight index. 80% of customers are more likely to purchase a product or service from a brand that provides personalized experiences.
Today's customers expect business interactions to be customized to their needs and preferences. Personalization is all about understanding your customer behavior and tailor your messaging to align both of them perfectly.
By using the right technology, you can collect customer data and turn it into actionable insights to personalize your customer interactions and provide unique messaging to every client regardless of their preference of channels.
Here are some ways to personalize your interactions to meet the customer delight index.
Use a tone that matches your customer personality. Some prefer short and direct communications and some like longer conversations and sharing opinions.
Listen to your customers and empower them. Asking your customers about their preferences both personalizes the experience and builds their confidence in your brand.
Understanding your customers' backgrounds by having authentic conversations helps to personalize every relationship.
Make kind gestures by sending follow-up messages to customers after each purchase or service interaction to thank them and offer further assistance if required.
Recommend products and services to your customers based on their purchase history. Personalized cart recommendations influence 92% of shoppers online.
How to measure Customer Delight?
It is no surprise that the happiness of a customer is a strong measure to foresee the future of any given company. That is where Key Performance Indicators (KPIs) come into picture. Track your customer delight with these easy metrics and progress towards your goal
1. Churn Rate
Churn rate is said to be the total percentage of the customers that refrain from using your product over a certain period of time. Try to keep this metric as minimal as possible. A high churn rate is an indicator that your business might soon run out of profits and it is time to pay special attention to the details. It is given by the formula:
Number of customers lost in a period of time / Number of Customers at the beginning of the period
2. Retention Rate
In simpler terms, retention rate is the opposite of the churn rate. To measure your customer delight, having a high retention rate is a must. For this, you will have to take the number of current clients you have from the beginning of the year or quarter and compare it to the number of customers you have till the end. It is given by the formula:
Pre-existing customers at the end of a year / Pre-existing customers at the start of a year
3. Customer Lifetime Value
Customer Lifetime Value is seen as the value that every customer brings over in the lifetime of their respective relationship in a given period of time, be it a year or a quarter. Further, it predicts your net profit in the given entirety of your relationship with a customer, starting from the first touchpoint to the end. It is given by the formula:
Average value of Sale x Retention Time x Profit Margin x Amount of Transactions
Who is responsible for delighting customers?
Creating customer delight is the responsibility of every customer-facing employee in your company. Larger businesses may have a team focused solely on wowing customers, but for small businesses, the job is everyone's.
The idea is to create customer delight in every aspect of your business, from the phone lines to social media. Everyone in the company should know they need to surpass expectations throughout the customer's journey. Whether a customer interacts with a sales representative, engages with your brand on Instagram, opens a package from you, or calls customer service, they should be delighted with the experience.