the answer is now. E-commerce is huge, and getting bigger every year. According to Statista, in 2014 the global e-commerce market was 1.3 trillion dollars. In 2023, it's projected to be a whopping $6.5 trillion. The best time to get in was when it was still nascent. The second best time is right now.
"Okay," you say. "But I have no idea what I'm getting into. How do I even choose what to sell?" A great question, and one that's easier to answer than you might think, but it's important that you get it right.
Because selling online is completely different than selling in a brick and mortar store, you want to choose products to sell that are conducive to online purchases and appeal to the typical online buyer.
Here are some of my "must have" product guidelines when choosing what to sell.
The product should not be fragile and easy to ship – Because we are going to be shipping products through the mail, you can avoid most headaches if you choose a product to sell that won't break during shipment.
The product should not take up much physical space – Certain ecommerce business models require carrying inventory so it's in your best interests to choose something small to sell and preferably an item that fits in a shoebox.
The product's inherent value should be ambiguous – For example, I would never sell electronics because there is a set value for your goods that everyone is aware of. On the contrary, keepsakes and informational goods are much harder to place a price tag on.
The product should be timeless – Once again, I would never sell electronics because they lose value the longer they stay on the shelves
Avoid seasonal goods – In general, you don't want to choose products that are only purchased during a specific time of year. For example, I would tend to avoid selling Halloween costumes.
Sell goods that sell from $15-200 – This is the sweet spot for pricing for online purchases.
For example, what if you're selling alcohol? You have to deal with extra types of taxes. Or what about shipping large, bulky items like mattresses across the country? Maybe you're importing from a foreign country and have to learn about import duties. Whatever the case may be, the product is the bedrock of your e-commerce efforts.
If that's you, don't despair. While picking an ecommerce product is the first step, it's also one of the hardest. Hard, however, doesn't mean impossible. If you learn the right tactics and put in the work, you can do it. Here's how to choose a product to sell in your ecommerce store.
You may have been told in the past to just sit down and have a good ol' brainstorming session, and ideas will come to you. But this advice is trash. It's trash, not because it's wrong, but because it doesn't tell you exactly what to do and why you are doing it.
The key is to flip your thinking: The question isn't, "What can I sell to make money?" The question is, "What do other people need that they will pay money for?" Switch from me, me, me to them, them, them. That's how you'll win.
(Bonus: You also don't need to sit down while brainstorming. Pace the room, lie in the park, go for a jog, whatever gets your creative juices going.)
Niche Products
Niche product serve a very specific consumer base. Instead of a hundred different product lines, you choose one high-quality item — perhaps with multiple variants — and develop a targeted marketing strategy. Because they're exclusive and desirable, niche products tend to be price inelastic and usually have quite high-profit margins.
Niche products can be one-of-a-kind (a crocheted shawl or a piece of hand-thrown pottery) or small-batch (handmade leather bags, seasonal preserves).
They can also be single-product ventures like Larq, for example, which only makes self-cleaning water bottles (and a limited number of accessories). Larq's customers are incredibly passionate, and they're willing to pay more than average for a good-quality product.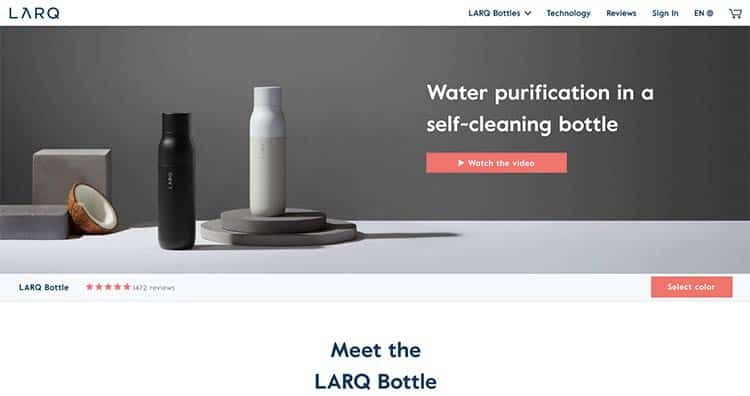 The following tips can help you come up with a solid niche product idea to sell online:
For each idea you have, click the category that best describes it. You'll see the top products in each category, which can help you figure out whether people are looking for anything like your idea. If lots of companies are selling the kind of product you're interested in, that's not necessarily a bad thing. If their ratings aren't great, you're looking at a golden opportunity to break into a market if you can improve on what's available.
Every problem has a solution:Innovation often starts at home. Can you create marketable solutions (products or services) to solve problems you encounter regularly?
Find your passion: You're about to put a lot of time and effort into your new business, so you need to ensure it's based on something you can stay interested in.
Figure out branding potential:Branding is vital in ecommerce. How will you brand your product? Who will your target audience be, and how will you create fellowship with them?
Guilty pleasures are a-go:People spend a lot of money on things they love. If you can tap into consumers' passions — or vices — with a strong product, you'll almost certainly build a customer base.
Keep an eye out for opportunity: The most successful entrepreneurs constantly look for gaps in the market. Pay attention to societal shifts, and you'll see consumer trends before they ever materialize. You might even help them manifest themselves.
Get on the trend train early:Speaking of trends — if you do notice an appealing product trend, get on board with it early. The earlier you segue into an emerging market, the more likely you are to be seen as an original part of the industry. "Authentic" brands get a bigger slice of the industry pie.
Spot niche markets: We mentioned Larq earlier because it's such a good example of a niche idea. Larq identified a problem (unhygienic water bottles) and came up with a solution (a rechargeable sanitizing water bottle). Larq raised millions of dollars in venture capital before ever producing a single production run. Ah, the power of the niche
Validate Your Ideas
Now choose your favorite ecommerce productideas from your list. It's time to see if there's anything to them. This process is called validation, where you see if an idea stands a chance on the market before you sink a bunch of money into it.
Where to start? Amazon. The site's Best Sellers list isn't just a cool place to find stuff to buy. It's a free tool for the ideas stage of starting an ecommerce business.
Let's say you had an ecommerce product idea for a fun new baby toy. You could check the Amazon Best Sellers list and click "Baby" in the menu on the left. To get more specific, you could filter down into sub-categories—in this case, you might check both "Gifts" and "Activity & Entertainment."
Research Keyword Volume
One of the first and very basic advances you can take to decide if there's a suitable market to offer your products to will be to inquire about the keyword volume. Keyword volume is an information point that speaks to what numbers of individuals scan for your specific keyword every month, which gives you a sign of how popular your product thought may really be. To look for keyword volume you'll require a keyword analytics tool.
The initial phase in utilizing keyword volume research to approve your product thought is to make a rundown of keywords or expressions your group of spectators may use to scan for your product. These keywords or expressions can be as straightforward as the product name, or as intricate as to incorporate the product specs. For instance, in case you're selling a rucksack, your keywords could essentially be "knapsack," or "book bag." You could likewise get increasingly explicit by including key expressions like "knapsacks for experts," and "cowhide knapsacks with zippers." The last two key expressions sharpen in more intently on the specialty that your knapsack products may oblige, in this manner helping you see how many requests there may be for the accurate sort of products you intend to sell and the specialty you intend to take into account. When you have a rundown of keywords, to begin with, input them individually into your picked keyword analytics tool. The tool utilizes information and calculations to comprehend the month to month scan volume for keywords and expressions so you can comprehend what the requestor intrigue level is.
You may imagine that there are bunches of interest for your product thought, however, the keyword examination device you use may demonstrate something else. Then again, you probably won't feel that there are numerous individuals looking for your product thought however you might be refuted all things considered, as well. That is the reason it's so critical to utilize a keyword examination tool to really investigate keyword volume: You don't really have the foggiest idea what the keyword volume is until you investigate it and keyword instruments give the cool hard actualities instead of just contemplation or suppositions.
It is significant, in any case, that keyword analytics tools don't generally take care of business. The keyword volume information they produce is a decent marker of what the genuine pursuit volume is, in any case, there is potential for mistake as it is anything but an accurate science. Remember this as you're inspecting keyword search volumes and don't accept the outcomes as limited yet rather as an overall pointer of the various keyword information that you inquire about. When you utilize the keyword analytics tool to inquire about your important keywords, at that point you'll have a smart thought of what the interest is for your product thought. Contingent upon the keywords you use, it likely won't be an accurate portrayal of what number of individuals are looking to really buy the product consistently, however, only a general review of the enthusiasm for the product thought itself. It can give you a rough approximation to consider so you can start to comprehend the size of your market.
Build a Landing Page
Give your clients a chance to come to you with a well-advanced point of arrival. Greeting pages are incredible in light of the fact that they can be as straightforward or intricate as you need them to be but the two choices can assist you with finding and interface with your market viably. This choice is generally a much more slow strategy to approve product thoughts as it regularly requires some investment to drive a considerable group of spectators to your point of arrival. As you develop your group of spectators, notwithstanding, you'll have the option to interface with them and assist them with becoming more acquainted with your image and what your arrangements are for product advancement later on which can assist you with building deep-rooted client connections.
By building a point of arrival, you're making a space online where individuals searching for your product thought can gather to examine, collaborate, and interface with you or different purchasers inspired by your product thought. Along these lines, you can start to build up a network around your product thought which will give you knowledge into what individuals are and are not inspired by, as far as your product thought. You can utilize your greeting page to measure intrigue, request exhortation, associate on the web, interfaces disconnected, and share your strategies as it creates.
To effectively cooperate with the group of spectators you work through your presentation page you're likely going to need to incorporate an email catch on the point of arrival itself so intrigued individuals can join your email list. Along these lines, you'll have the option to speak with them all the more adequately and you'll likewise manufacture a developing rundown of individuals intrigued by your product thought. Consider additionally posting your business' internet-based life handles so your group of spectators can associate with you there, as well.
Determine The True Cost Of Production
There are a handful of things you must take into account before launching your business. The first involves the cost in getting the product into the hands of the customer.
First, how much does it cost to bring a product into existence?
As an extremely basic example, consider the case of someone who makes yarn-based crafts as a small side business. She might pay $5 for two balls of yarn, from which she creates an item that she sells for $35. The ultimate profit—$30—is impressive for a hobbyist, but not particularly significant in the greater financial scheme of things.
Now apply the same logic to goods whose production is more extensive.
A company that makes T-shirts is paying for more than just the cost of the material. Most likely, it has to employ people with access to equipment, which in turn is kept in a building, which in turn requires electricity to operate, and so on.
One of the biggest mistakes I see entrepreneurs make is to not account for the time they spend working. Eventually, you need to hire someone to take on your role, that will increase your cost.
Bigger profits require bigger outlays in terms of initial investment.
As explained on Entrepreneur, running a business comes with many potential costs, including, but not limited to:
Property and equipment leases
Loan repayments
Utilities
Salaries/wages/commissions of employees
The inventory itself
These concerns are not limited to the realm of traditional businesses.
For example, a seller whose inventory is housed in a third-party warehouse must still pay the costs associated with third-party logistics.
Other factors that will need to be written into the profit margin may include:
Markdowns
Unexpected shortages
Damaged inventory
Shrinkage (e.g. shoplifting)
Employee discounts
Finally, even after a product has been "produced," there are freight costs—the shipping of the product from Point A to Point B.
Point A is the place or places at which the product was manufactured or assembled; Point B is your place of business—or, depending on the scenario, the customer.
Again, note that similar principles apply even to "nontraditional" business enterprises: a seller who utilizes the drop-shipping services of a third-party distributor must still contend with the costs of shipping.
What makes the determination of profitability tricky is the ultimate realization that every factor listed above is subject to change.
Overhead and shipping costs can (and will) increase over time. Employees can (and will) ask for raises or attempt to renegotiate salary. But perhaps the biggest source of change will be found in the specific nature of the market you have chosen to enter.
To get a true grasp of your costs, you need to learn the difference between fixed and variable costs.
After your first reporting period, you'll have a much greater insight to information and numbers driving your performance.