This guide contains everything you need to know about cart abandonment, from what it is, to why it happens, to how you can devise a strategy to combat it.
Understanding how to drive these consumers back to your website is fundamental to increasing revenue and winning loyal customers.
On average, 69.89% of shoppers will add something to the shopping cart but end up leaving without buying anything, leading to shopping cart abandonment.
The average conversion rate for eCommerce websites is a dismal 2.86%. Chances are — you're grappling with this problem as well.
So, in this article, we will cover the A->Z of shopping cart abandonment – what is it? Why does it happen? And unconventional ways to reduce cart abandonment for your online store. 
What is Shopping Cart Abandonment?
Shopping cart abandonment is when a potential customer on your ecommerce site is in the middle of checking out (or has at least added it to their cart) and decides to no longer purchase. This is usually measured in the percentage of carts abandoned over a period of time. It can be impacted by bad UI, checkout flow, confusing pricing, brand trustworthiness, etc.
Statistics
According to the Baymard Institute, these are the most common reasons why customers abandon shopping carts:
Expensive shipping fee (55%)
Site wanted them to make an account (34%)
Long or complicated checkout process (26%)
Couldn't trust the site with credit card information (17%)
Website had errors/crashed (17%)
Not enough payment options (6%)
Of course, there can be other reasons that also come into play, such as not having enough product in stock, waning brand loyalty, and checkout errors.
Other major reasons for cart abandonment include:
Having a slow website. A slow website can increase abandonment by 75%, and loyalty drops 50% when your site is slow.
Customers just browsing. 81% of customers are just browsing ecommerce sites because they are conducting online research as to the best available deals. 55% look for products on both Amazon and Pinterest, 79% look for free return shipping, and 71% evaluate shipping fees and policies
Why do customers abandon their shopping carts?
1: High and Unexpected Extra Charges
Shoppers find an item that they like, they consider the price and then decide to make a purchase. However, once they get to the checkout page, they see something unexpected in the payment summary.
There are several extra charges—like shipping costs and taxes—added to the original price. Which causes the total cost of the item to rise unexpectedly. This frustrates and angers many shoppers, causing them to abandon their shopping carts.
In the Barilliance study, the top reason for shopping cart abandonment was unexpected shipping costs.
The Baymard study found that 60% of people abandon their carts because the extra costs for shipping, taxes, or other fees were too high.
Another 23% of customers abandon shopping carts because they can't see, or calculate the total cost of their orders upfront.
2: Looking for other alternatives – leaving to do some research
Not every reason for cart abandonment has something to do with you or your website and brand. Many visitors like to look around and find the best option that suits their budget and wants.
A simple and obvious way to avoid this – have a product comparison chart to provide the benefits of your products over other options.
Here is a simple example of the same:
3: When they have to create a new account
Over 20% of the visitors don't complete their checkout because of the need to create a new account on your checkout page.
When they are forced to do extra steps , they get frustrated and drop off. But this doesn't impact the visitors buying experience as much as others on this list.
The easiest way to solve this problem is to have a guest checkout process or an option to log in through google or facebook. Something like this:
4: They Do Not Trust Your Site
Users who land on your site for the first time, or who do not have an existing connection or relationship with your platform may take some time to trust you with their credit card.
Customers are afraid of filling transaction forms. They do not like the idea of providing personal details such as their phone numbers, email addresses, credit card details and addresses to people they do not trust.
Buyers know the risk of data theft is always there. You have to convince users to choose your business by showing the steps you've taken to protect their data and identity.
Highlight companies or names you're affiliated with and mention the steps you've taken to safeguard your visitor's interest. This includes using SSL certificates, getting verified by credit card companies like MasterCard and Visa, and using a reliable antivirus program.
Make sure to place logos clearly on your website. About 61 percent of consumers avoid buying for a site that does not display trust logos.
In addition to this, you can also offer a money back guarantee. It's an easy way to win a new customer. Consumers are more likely to buy from a website or store that offers a guarantee that ensures their money is safe.
Clearly highlight your refund policy and make sure to tell users they're covered if they do not receive what they expect. Since it's common for online marketplaces to promote false products, a money back guarantee can be very helpful in convincing consumers to complete the checkout process.
5. Your Website Crashes
This is a no-brainer, most users will leave a website that crashes, especially if it happens during the checkout process.
Crashes can happen due to a number of reasons such as system issues.
In some cases, the website may crash during the payment process if it's not able to form a connection with the payment provider. This might not always be in the hands of the store since you'll have to trust the services of the provider you have selected.
On your part, be careful when selecting a partner. Choose reliable providers and makes sure to select a hosting company that offers a good uptime so that your site does not crash.
If you expect your site to be down due to maintenance or other such causes, flash a warning so that users are well aware of the risks.
6. Missing Information or Details
Consumers will leave a website that does not provide all the required details about a product or service. For example, the page below is bad as it tells nothing about the product.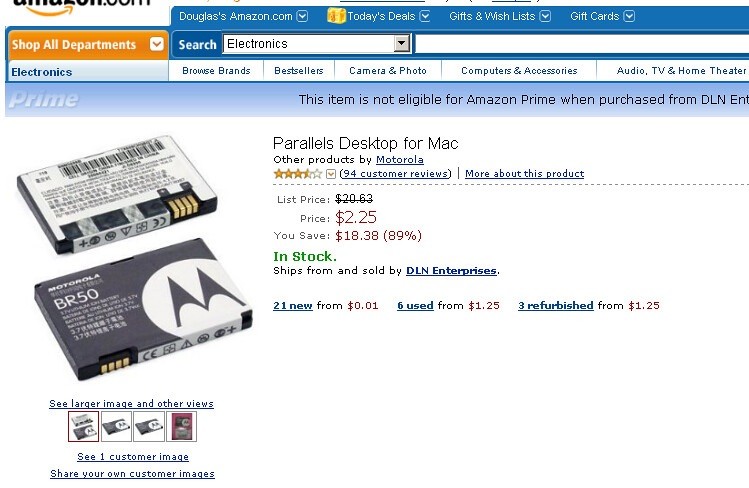 Now look at this another Amazon example: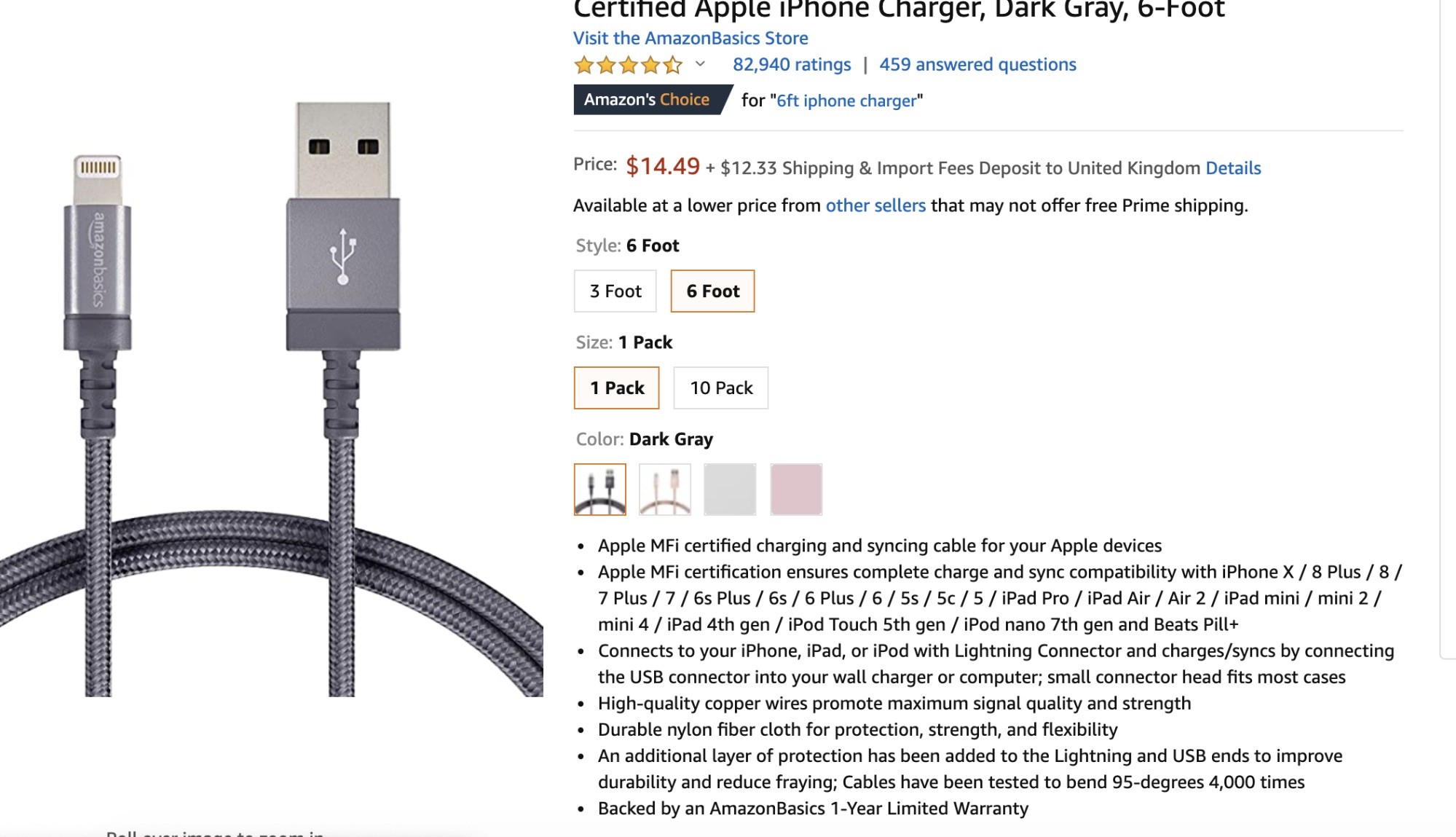 You will find everything you need on a single page.
Amazon allows sellers to upload everything from company manuals to reviews and descriptions. This is one of the major reasons why Amazon has been able to find such success.
Many users prefer to buy from Amazon because they know they will not have to do any research to find what they need and they'll find everything on the web. Plus, they also have more trust on the platform due to its customer friendly policies.
Amazon allows buyers to check the FAQ section, go through reviews to know what real customers think, and check the description to know how a product works or what it offers.
Some sellers even add videos and detailed guides to ensure buyers have no confusion. You should also do the same if you wish to reduce the cart abandonment rate.
7. Surprises and Hidden Costs
Nothing annoys consumers like hidden costs. Imagine the horror of searching for a product under $10, selecting one, and seeing the cost skyrocket to $12 when you reach the final page.
Extra costs can be in the form of taxes, fees, and shipping. The situation can be tough for sellers but the truth is that consumers do not want to pay these 'additional charges', especially if they come as a surprise.
About 23 percent of buyers will abandon the process if they do not see the total cost up-front. Make sure to advertise costs on the product page. If you want to advertise the product for a lower price (minus extra charges) you can mention so on the page so that buyers know what they're taking on.
Abandoned Cart Emails
If your customers still abandon their shopping carts at a high rate despite your best efforts onsite, there's good news: you can still get them back with the help of abandoned cart emails.
Abandoned cart emails are helpful and effective. Here are some abandoned cart email statistics to take note of from Moosend:
Open rate: 45% of cart abandonment emails are opened on average.
Click through rate: 21% of the emails are clicked on.
Conversion rate: 10.7% of recipients completed their purchases. According to Barilliance, abandoned cart emails can lead to a 18.64% increase in conversion rates!
You can create your own abandoned cart emails with the help of your email marketing provider and/or ecommerce platform (for example, BigCommerce offers abandoned cart recovery features built-in).
Additionally, these solutions can help simplify the process:
1.Showcase trust and credibility in your emails.
We are all aware of the many scams on the internet and most of us will be able to tell a story we've heard about someone that lost money on a purchase that they never received.
Consumers, too, have become more careful and first-time visitors to your website especially will need a little more convincing before opening up their wallets.
This is where social proof can help you convert those first-time visitors or skeptical buyers.
The best way to do that is to use product ratings and reviews so that those prospects can see that other people (like themselves) have happily purchased from you before.
When 88% of consumers claim that ratings and reviews influenced their buying decision, this represents a big opportunity for you.
Instead of just using this social proof on your website, you can use it in your abandoned cart reminder emails too.
Here are two ways to do that:
Remind your customers that they left highly-rated products in their shopping cart. You can use the star rating (of the highest rated product in the cart) in your subject line (something like "There are ★★★★★ products in your cart!") to give your open rates a nice boost.
Most abandoned cart emails that you encounter will contain a list of the products left behind in the cart. These emails include all of the basics you'd expect: the product name, image and price. By including the number of reviews along with the average rating, you can make your products more compelling. Seeing something like "Rating: 4.64/5 (67 Reviews)" will give you an instant dose of FOMO to complete that purchase ASAP.
The combination of a higher open rate and more compelling content has meant that some merchants have seen an increase in their recovery rate of up to 36%.
2. Shine the spotlight on a single product.
These days many online shoppers practice a digital version of window shopping where they will add multiple products to their cart for future consideration.
It's safe to assume though that when someone adds 10 very similar products to their cart, they don't have equal purchasing intent for all of those products.
Most abandoned cart emails would, however, remind the customer of all those products, which dilutes the effect that your email will have.
Instead of using the opportunity to re-market and re-sell your customer on a single product (preferably the one they are most likely to buy), you (and others) use that fleeting moment across 10 different products.
I would invite you to think about what a one-on-one conversation with that customer would look like and how you could apply some basic sales principles to increase your conversion rate.
Here are three ways in which you can turn your abandoned cart email into a better salesperson:
Use at least part of your abandoned cart email campaign to focus on selling only one product and then really shine that spotlight on that product. The easiest way to do this is to select your best-selling/highest-rated product in the cart, because it converted for many of your past customers.
Once you have that single product focus, highlight some of the primary benefits of that product specifically. Instead of using generic marketing copy that relates to your brand and the abandoned cart, you can communicate the unique selling propositions (USPs) of this product.
Along with using your marketing copy to elaborate on the reasons why the customer should complete their purchase, you can also add some objectivity by including recent reviews of the product. The combination of your and your customers' own words will give your prospective customer the full spectrum of information to aid them in their purchasing decision.
When you do all of these things in a single email, it also quite a striking visual effect.
Here's a comparison between a basic abandoned cart email (left) and the results of using the spotlight effect (right):
3. Make the most of loyalty.
One of the most prevalent strategies to recover abandoned carts at the moment is to include a discount coupon, but because this is such a popular tactic, we have conditioned many of our customers to now expect this.
Discounts ultimately erode your profit margins and over time it loses its efficacy too.
The bigger risk here is that regular discounting devalues your product over time.
Discounts are especially counter-intuitive when it comes to your most loyal customers.
They are familiar with your brand and have indicated a willingness to purchase from you regularly before; so you probably don't have to sacrifice your profit margin with another discount.
The better way to do this is to leverage your loyalty & rewards program(something like Smile.io).
This tactic has improved abandoned cart metrics for every merchant for whom we've implemented this, ranging from a 39% to 600% increase in recovered revenue per email sent.
Here's how we do it:
First look at your global Average Order Value (AOV). For this example, let's assume that is $100.
Then look at your reward tiers in your loyalty program. What you want to determine is how many loyalty points a member needs to get at least a 10% discount (based on your global AOV). Let's say 200 points equals a $10 discount.
Create a segment in your email marketing software for all Rewards members that also has more than 200 points.
Send that segment a different abandoned cart email campaign, where you don't include a new discount. Instead you highlight the fact that they have loyalty points which they could apply to this purchase to get at least 10% off.
Not only does this tactic convert incredibly well and give your recovery rate a massive boost, you are also not issuing a new discount.
Instead you are just nudging your loyal customers to use the points that they have already earned.
The other, more general, tactic that you can use for all your Rewards members is to remind them of their points balance and how many points they need to reach the next rewards tier.
This will work especially well if every rewards tier unlocks some exclusive or exponential rewards.
The best example I've seen (and have fallen for) are airlines' frequent flyer programs.
The more I fly, the more reward miles I earn. But if I earn a certain amount of miles in a specific amount of time, then I can also be upgraded to the next level.
The next level then normally means I can earn even more miles along with other benefits.
Suffice to say, I have been known to book yet-another holiday primarily to be bumped to the next level.
Airline $100. Adii 0.
HOW MODERN CONSUMERS SHOP ACROSS CHANNELS
Consumers shop on their own time, in their preferred channels and compare across stores and prices. Here's everything you need to know from demographic shopping habits to how folks in the cities versus rural areas differ.
Build your omnichannel strategy for your target customer right now.
4. Keep a longer-term connection.
The recent introduction of the GDPR has shone the spotlight on how crucial consent is for online marketing.
As email marketers, we've always mostly agreed that a smaller, highly engaged list will always trump a bigger, disengaged list in many ways.
Making sure that you are only sending emails to prospects or customers who have consented to receive them is a critical component to ensure high engagement.
After someone abandons a cart on your store, you have a legitimate interest to email them about that cart (which is what you're doing with your abandoned cart emails).
But after a couple of emails about this, you can't email that customer again without their consent.
That's a potential relationship lost.
The context you should consider is that often times the timing is not right for the customer to make a purchase now.
Maybe they need to save up a little more or they're buying a gift that they only need later.
In those cases, you want to retain the connection until that time in future when they are ready to make a purchase.
One way to do that is to add a final email to your abandoned cart email sequence, asking your prospect to instead sign up to your mailing list instead.
That way you can either trigger another automated, drip campaign for them or just send them regular newsletters about new products or promotions.
This keeps you top of mind with them and will nudge at least some of these prospects to make a purchase (which would be an indirect abandoned cart recovery).
5. Give your emails a boost with other tools.
If you could only do one thing about cart abandonment, it would be to implement a good abandoned cart email strategy.
Email is a cost-efficient, stable and scalable way for you to recover more of this revenue.
And if you use the emerging, creative tactics I have included above, you should have a really good recovery rate too.
There are other things that you can implement though to complement your email strategy.
The reason these tactics work is not as much because you're doing "more", but because you are using different mediums to find alternative ways of speaking with your customers.
This optimizes for your customer's individual preference for how they like to hear from you, whether that is email or text messages or phone calls.
Here are a few mediums and tactics you can use to boost you abandoned cart email strategy:
Actually call your customers. This is not very scalable, but you can prioritise this by only phoning abandoned carts that have a certain cart value. What is great about this is that you can get great feedback and address unique objections with a specific customer.
Use a tool like Shoelace to create automated retargeting ads on Facebook to coincide with your email campaign.
As a platform, Facebook continues to grow and Facebook Messenger is a big part of that growth. There are tools like Recart that allows you to send abandoned cart messages via Messenger for those prospects that prefers this (over email).
Another medium that you could investigate is browser push notifications or text messages too.
If you implement any of these additional tactics, you will find that the biggest improvement to your recovery rate will come by being consistent in your messaging.
When you have messages going out to multiple channels, the consistency in your voice, tone and even the discount on offer is critical.
On the other hand, your biggest risk too is that you contradict yourself across the multiple channels.
To that extent, make your abandoned cart email sequence your North Star and build out the other tactics around that.
Some abandoned carts email apps.
Jilt
Developed by the SkyVerge team, an official WooCommerce partner, Jilt was created to help ecommerce stores recover lost sales due to shopping cart abandonment.
Jilt is a plugin that you install. It integrates with platforms such as WooCommerce, Easy Digital Downloads, and Shopify. Once you're using Jilt, it monitors incoming customers and tracks them. Once they abandon their shopping carts, it kickstarts an automated email campaign to try to make them come back.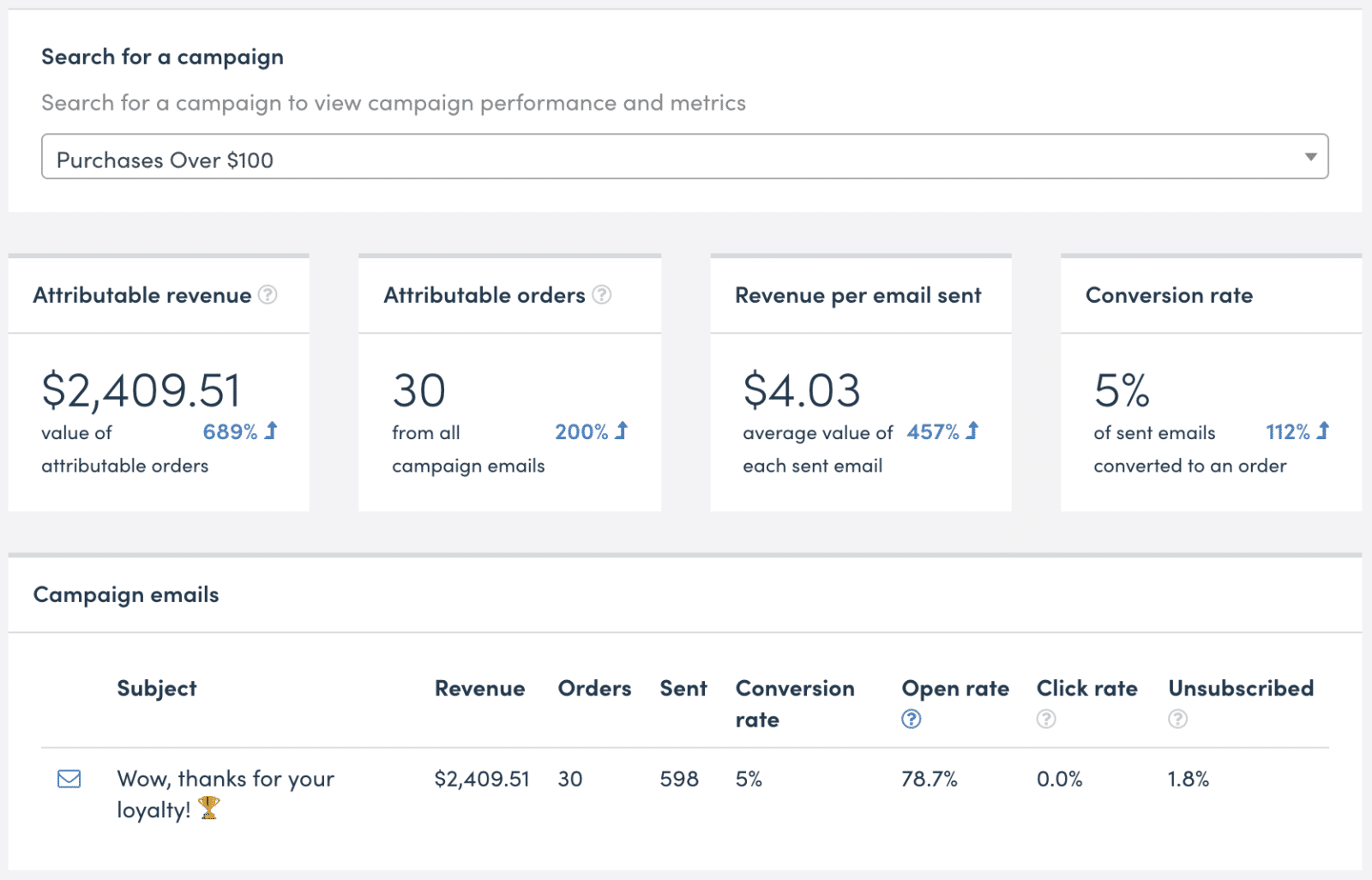 One great thing about Jilt is that they show you how much extra income you can make by reaching customers you could've lost. On that note, you're only charged for the customers that you actually reach through your campaigns. You can also have Jilt dynamically create unique discount codes for you.
Conversio
Conversio is an email marketing company that specifically targets ecommerce stores.
They allow you to send any relevant ecommerce emails, such as receipts, abandoned cart emails, follow-up emails, product reviews, newsletters, and feedback emails. Conversio offers beautiful pre-designed email templates, powerful segmentation, and automated campaigns. Like Jilt, Conversio also charges according to a flexible pricing model.