Doctors of today are sandwiched between the rising cost of acquiring their degree and the falling remuneration as medicine gets more corporatised with each passing year. We're witnessing increased burnout and decreased satisfaction.
According to Medscape's 2019 National Physicians, Burnout and Depression Report more than 40% of physicians and 50% of female physicians are burned out.
Furthermore, according to a study published in JAMA Network Open, there was an increase in physician burnout from 2014 to 2017.
These are sobering statistics, that paint an increasingly alarming picture. That's why now, like never before, doctors need side hustle options.
Doctors like to ignore the money issue. We don't discuss it in medical school even though it is a large part of the reason we are studying medicine. Faculty don't teach us about it. They may not even know much themselves.
Our parents may have avoided that taboo subject too. Unfortunately, those who don't understand money are not likely to manage it well.Doctors who are bad with money are bad with other things. Important things. That leads to frustration, burnout, exhaustion, marital stress, and even suicide.
Build many streams of income. Become financially independent, preferably in your 40s. It opens an array of options such as early retirement, part-time work, and mission trips.
Our latest: 6 ways to keep your side hustle startup cost low
Reasons every doctors need a side hustle.
I'm here to tell you that regardless of your specialty or practice location, you too can start a side hustle that will grow your wealth ladder. Here are some reasons every physician should side hustle.
1. Get P.A.I.D.
Passive income is great. You put your money or time in some case, both to work. and it comes back to you in the form of dividends, interest, capital gains or rent. There's nothing better than easy money. Unfortunately, passive income streams often need capital to get started.
Luckily, your medical degree is a passport to getting P.A.I.D.
– Passive Aggressive Income Design. Your active hustles generate the cash you use to fund your passive hustles. You make active income, maximize self-employed deductions to minimize taxes, and funnel the remainder into passive ventures. You'd be surprised how quickly this can amplify your retirement savings.
2. Hobbies can turn into side hustles.
Many of our hobbies are actually full-time occupations for some people. I know several computer programmers who dabble in photography in their free time. Some of them actually are transitioning to full-time photographers, starting with small-time events through Craigslist and then eventually larger venues through word of mouth.
One of the plastic surgeons in my area dabbles in woodworking and produces craftsman-style furniture. Could he dive into this full-time? Absolutely, but I'm sure that he wouldn't be happy if his livelihood depended on it. However, it is conceivable that he could turn this skill into a side-hustle. Will he do that? Probably not, because he is busy enough correcting ptosis or making people beautiful.
Then there are doctors who really kick themselves into overdrive and basically find ways to make a name for themselves outside of clinical medicine. Some of the more popular routes include becoming a CEO of a hospital, joining an advisory board of a company, and or even becoming a writer.
3. Burnout is prevalent in the field.
Burnout is prevalent in medicine. Recent studies from the Mayo Clinic and @Medscape have burnout rates for physicians in the 50% range. One study reported that Emergency Room physicians, Internists, and Urologists have a burnout rate of 55%! Another study reported that Critical Care physicians had the highest burnout rate. It's also not just the stress of medicine or long hours that contribute to the burnout; survey respondents report that the increasing amount of bureaucracy and computerization of the healthcare system that are the top offenders. Essentially, many of the tasks that cause burnout are things that we don't like doing.
4. Expand a Professional Network
A side hustle can also open up avenues to network in new ways. Through a side hustle, physicians can meet people who may become clients, service providers, or professional partners. Side hustle customers can also become a source of referrals, introducing friends and family when they are looking for a new care provider. And, a side hustle can be a point of differentiation at traditional networking events, making physicians memorable when the room is full of doctors or healthcare professionals.
5. Hedge Against the Unknown

The business of medicine is full of uncertainty. There are many things outside of a healthcare practitioner's control–regulatory changes, supply chain issues, insurance carriers that dictate timing and amount of reimbursement, and even public health matters that impact hours of operation or the scheduling of procedures.
A side hustle–particularly one outside of medicine–can provide another way to keep income flow steady when a primary job is in flux.
6. Escape Hatch
Some people wake up one morning and realize they could make enough money from their side jobs to quit their main job all together. If your dream is to walk (or run) away from clinical medicine, this might be your escape hatch.
Everyone has their own reasons for side hustling. Whether it's to pay off debt, boost savings, add some variety to your life, reduce clinical hours or leave medicine entirely, there is a reason that's right for you. The hardest step is deciding to start. Today is the day! Time to stop procrastinating and start hustling! You'll be glad you did.
Latest post: Business basics all freelancers need to master
Some side hustle doctors can consider starting today.
So if you're a doctor, and you want to take back control of your life – take heart! You can start shaping a new, less frantic life by looking at some fantastic side hustle options.
1. Become a Conference Speaker
You might be wondering about the need for this, but consider the following projection: "The Bureau of Labor Statistics recently posted that between 2016-2026 the meeting and event industry would grow an average of 11%"
Clearly here lies a viable opportunity to pursue as a side hustle. Currently, there is much interest in the link between diet, lifestyle and auto-immune diseases.
NBC News reports that in 2018, "keto diet" was the most-searched word on Google. This is backed up by Google's "Year in Search" report. This is just one example of an area you could focus on and specialize in.
Promote yourself through your LinkedIn profile and your own personal network, and pitch yourself to events and conferences you identify as good fits for your message. While on-site, make a point to network with attendees and position yourself for future speaking invitations.
2. Practice Telemedicine from Home
Thanks to the widespread availability of inexpensive web cameras and video chat programs like Skype, more doctors than ever are providing care remotely. Patients get cheap medical advice from qualified professionals and doctors avoid spending a lot on administrative overhead. Top telemedicine contractors include iSelectMD, NowClinic, Ringadoc and American Well. The American Telemedicine Association is a terrific resource for physicians interested in providing telemedicine consultations.
3. Start a Medical Equipment Business
According to the most recent statistics, the medical device industry is worth roughly $155 billion in the United States. You can easily snag a piece of that pie by working as a sales representative for major suppliers. If you want to go all the way, you could become a middleman and bid on supply contracts for smaller hospitals in your immediate area
4. Podcasting and Blogging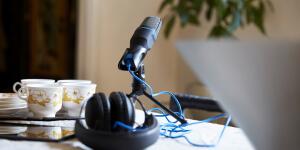 The beauty of today's digital media world is you don't have to wait for someone to hire you to start writing or speaking. With a few Google searches, you can learn how to start a blog or launch a podcast to talk directly to patients, fellow physicians, or general health consumers. Some physicians enjoy blogging or podcasting for the opportunity to debunk common health myths or provide expert perspective on current medical headlines. Successful podcasts and blogs take work, but they can attract advertising income if they reach a large enough audience.
5. Freelance Writing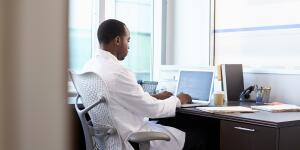 Your years of practice have made you a subject matter expert, and freelance writing gives you the opportunity to translate that knowledge into paid content. Start by researching online health sites or medical publications and pitch story ideas, or look for non-editorial jobs such as writing scientific manuscripts, medical marketing communications, CME content, or test prep materials. Many health websites also employ independent medical reviewers. Conversely, you can make yourself available as a medical source to journalists through sites like Help a Reporter Out (HARO), though these interviews are typically unpaid.
6. Teach Online
Teaching online is a side-hustle that definitely deserves consideration is producing an online course to educate others.
Consider this statistic. "Market research from Global Industry Analysts projected 'e-learning' would reach $107 billion in 2015 and it did. Now, Research and Markets forecasts show trip the revenue of 2015 – e-learning will grow to $325 billion by 2025".
This reveals that e-learning is a substantial area that offers great potential to generate a side hustle. An example of an avenue through which to do this is Udemy. With Udemy you are able to record courses, choose your own price and make money for each one of your courses that is purchased.
7. Kindle Publishing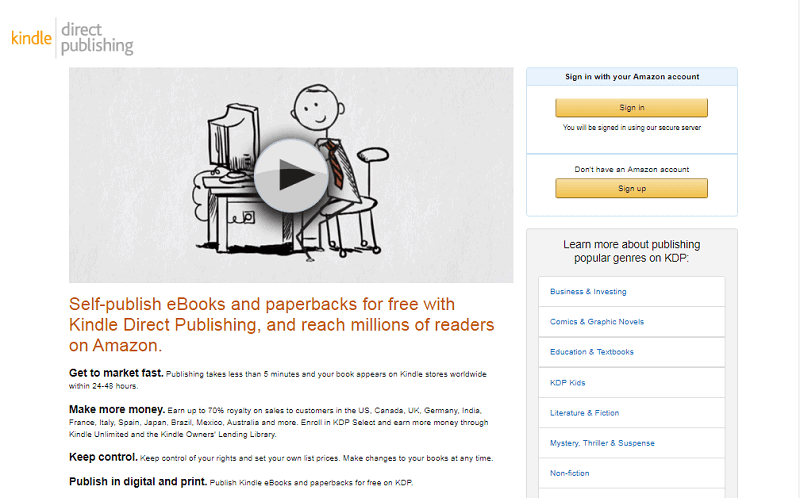 "Self-published books now represent 31% of e-book sales on Amazon's Kindle Store". Clearly, self-publishing is going from strength to strength and using a well-known and trusted platform like Amazon only adds to this.
Kindle publishing allows you to publish your work on Amazon kindle. Choosing a niche can be based on your expertise combined with ideas you can glean from tools like Google Trends.
CNN released a list of the top 10 medical queries searched on Google in 2018 and top of the list was the keto diet. So there's a big interest in a diet
Some common mistakes doctors make when it come to side hustle and money
Invest in wide money scheme
Everyone likes to get in on a good deal. We can't wait to tell others about our successes.
Over the course of your career, hundreds of people will offer you deals. The offers may come from neighbors, in-laws, former schoolmates, peers, work colleagues, etc. The deals may involve new medical devices, pharmaceutical compounds, or real estate.
Each will claim to offer a lucrative once-in-a-lifetime opportunity. You will be seduced by promises of dizzyingly high returns with minimal risk. In reality, most of these ventures end in tears and sometimes lawsuits.
Money truisms include: "Money doesn't grow on trees," and "There's no free lunch." If something seems too good to be true it most likely is too good to be true.
Only a tiny percentage of business ideas survive and evolve to investing success.Stick with what you understand. For most of us, that means a passive strategy focused on diversification and low fees. All other opportunities should be viewed with a healthy dose of skepticism.
Procrastinate
Doctors are masters of procrastination. This may be partly due to their medical training. In medicine, it is best to wait for the body to heal itself instead of jumping to surgery or drugs. Unlike in medicine, when it comes to finance and side hustling, time is the enemy. Every day that goes by without action is lost forever, along with its growth crucial to our nest eggs.
Rely blindly on advisors
Doctors often find it easier to identify an advisor they trust and let the advisor make all decisions. Many physicians have no interest in money matters. They prefer to spend their time on medicine and family.
The problem is that "When the cat's away, the mice will play." You are the cat and you are electing to not oversee your advisors' (the mice) activities.They may act in ways you wouldn't condone.
The resulting misunderstandings undermine trust and foster anxiety. In extreme cases ignoring advisors' activities can result in crimes of opportunity or fraud.
Conclusion
Breaking all the outlook of limitations that may hinders or cause you to justify, and accept that your side hustle can be one of the rewarding decision you can make today. Though, it's not easy but still far may doctors are making it and there is chance to 100 that you can.